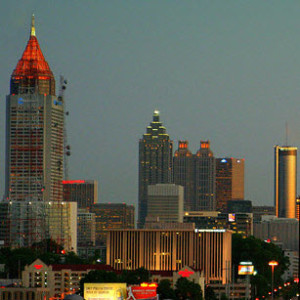 NPU stands for "Neighborhood Planning Unit".
What is a Neighborhood Planning Unit?
The City of Atlanta is divided into twenty-five Neighborhood Planning Units or NPUs, which are citizen advisory councils that make recommendations to the Mayor and City Council on zoning, land use, and other planning issues.  The NPU system was established in 1974 to provide an opportunity for citizens to participate actively in the Comprehensive Development Plan, which is the city's vision for the next five, ten, and fifteen years.  It is also used as a way for citizens to receive information concerning all functions of city government.  The system enables citizens to express ideas and comment on city plans and proposals while assisting the city in developing plans that best meet the needs of their communities.
Click here to learn more about NPUs in Atlanta, GA
The primary mission of NPU-R is to facilitate citizen participation in affairs of city government by drawing on its representation from the local neighborhoods and elsewhere and to advise the City Administration, City Council and others on citywide issues, goals and objectives relative to Atlanta's Comprehensive Development Plan and related concerns. It also advises on ongoing issues related to land use, zoning, transportation, environmental quality, license review, parks and open spaces.
WHAT DOES NPU-R DO?
The NPU maintains direct communication with the Planning Department.
NPU-R is the official voice of Atlanta's citizens in the planning process pursuant to provisions of the Atlanta City Charter, and actions of this Board and its membership are subject to the City Code of Ethics.
The NPU assists City agencies in determining priorities; it reviews and makes recommendations on budgetary items and matters of policy.
NPU-R often advises the City concerning responsiveness of city government to its citizen organizations and other citizen participants in the planning, administrative and legislative processes.
NPU-R may also perform other functions as required by federal law relative to citizen participation where federal law does not mandate assignment to a specific agency, and may perform other duties as assigned by the Mayor and City Council.
NPU-R nominates citizens for appointments to seats on numerous City boards and commissions.
HOW DO WE GET OUR WORK DONE?
The work of this volunteer board is conducted primarily through Committees and Work Groups and meetings of the Board.
Under its present by-laws NPU-R maintains a committee structure that similarly parallel that of City Council.  The committees consist of: Executive, Public Safety, Community Development and Human Resources, Zoning, Utilities, Transportation, and Committee on Council.  The Chairperson and the Executive Committee routinely create collaborative committees or work groups from within its delegate pool and from the neighborhood at large to facilitate citizen input on specific topics of current concern that are under consideration by city government.  NPU-R committee members frequently work with the planning department during the amendment phase of legislative papers in order to incorporate citizen concerns before the legislation is enacted.
WHAT DOES NPU-R NOT DO?
NPU DOES NOT LOBBY. WE ARE NOT A LOBBYING ORGANIZATION. Unlike ad hoc citizen groups formed for lobbying for individual interests. NPU-R delegates vote to reflect the broad democratic consensus of the Neighborhood we represent. The City's Board of Ethics in fiscal and lobbying issues binds the NPU officers.
NPU does not create plans, its mission is to advise and provide citizen input on planned development and issues.